As you know, Tsurutaro Kataoka is active mainly in television as an entertainer, and he is also demonstrating his rich talent in movies and theater as an actor.
On the other hand, he taught himself a paintbrush and pioneered a new area of self-expression.
Since 1995, he has held numerous solo exhibitions and has captured the hearts of people with his warm, self-taught style of painting.
The subject of the painting is the fish, flowers, insects, etc. that you encounter in your daily life and on location trips.
There is a lot of love for every moment of life, and it seems that Mr. Kataoka's sincere attitude facing the honest heart that he wants to draw can be seen through.

The shades of ink that you can feel the breath of the person holding the brush and the texture of the paper and the brush touching each other.
Coloring of face and mineral pigments.
A combination of colored paper collages.
And the exquisite balance of painting and calligraphy that creates a unique space in the painting space.
Everyone must be surprised at the surprising combination of materials and techniques destined for Mr. Kataoka.
It is because of his free thinking that is not bound by the school that the traditional style of calligraphic works has been reborn into such a surprising style.
There is an unwavering artistry behind the lightness that reflects the colors in the viewer's heart.

We hope that Mr. Kataoka's creative world will expand even further in this area rich in nature and history, on the banks of the Yunokawa River that flows from Sainokawara Park Kusatsu Onsen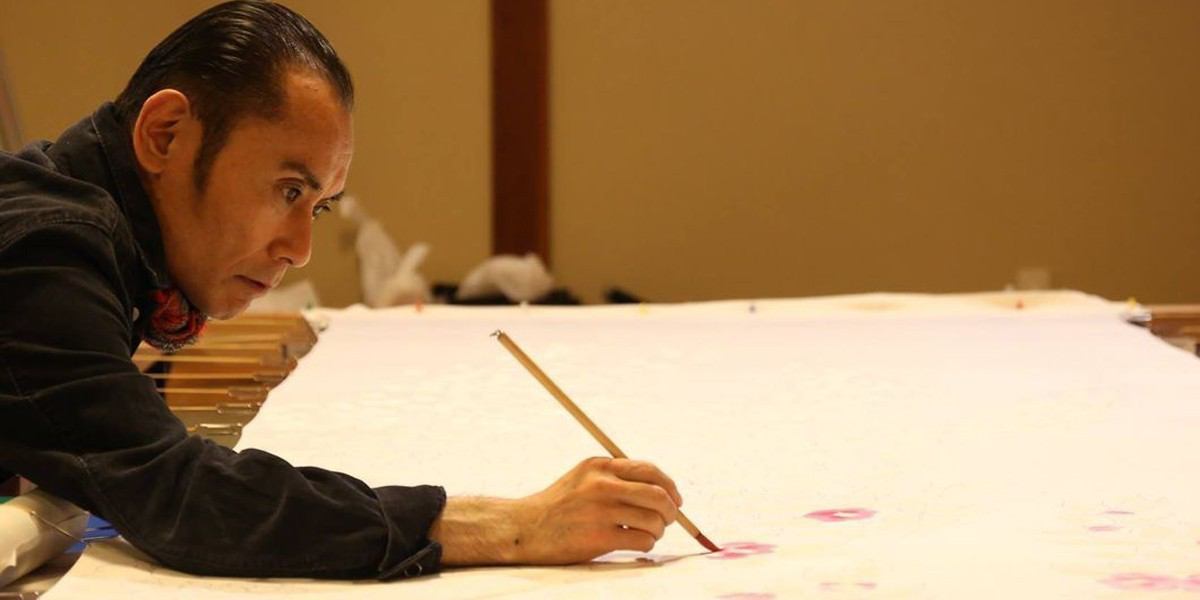 The height of the exhibition room is 8 meters.
A powerful millennial series with a length of 4 meters is on display.

The art goods shop on the 1st floor sells a large number of art goods. (You can drop in at the shop without entering the museum)

Goldfish on the back beat of the donation

Create a picture of a road bike

Created a picture of a road bike at the Kusatsu Hotel

Exhibition Room 3
Opening hours

8:00 to 17:00
(Until 16:30 on weekdays)

Closed in February

There are no closed days in February.

Admission fee

600 yen*Kusatsu Hotel guests are 300 yen

Address

513-6 Kusatsu, Kusatsu Town, Agatsuma County, Gunma Prefecture

Inquiries

0279-88-1011

Notes

Kusatsu and a museum shop on a part of the 1st floor, and a museum on the 2nd floor.
Sainokawara Park parking lot (charged), which is a 5-minute walk, or
Please use the Tenguyama Daiichi Parking Lot (free of charge), which is a 10-minute walk away.
Kusatsu Hotel parking lot is basically for guests only,
If you can afford it on weekdays, you can park for only one hour.

Kusatsu Hotel guests are a 1-minute walk away.
A bike stand is available at the entrance.