In this facility / facility
In this facility / facility

Map in this facility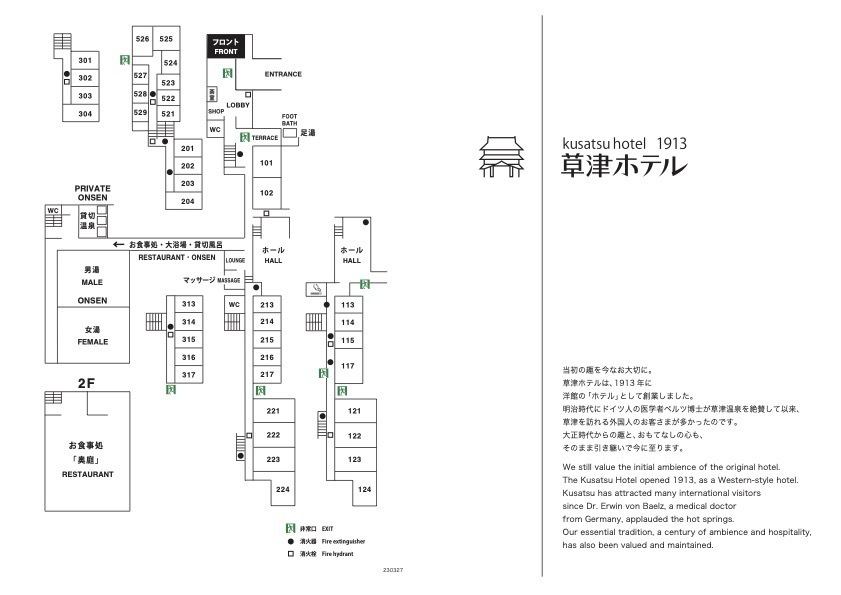 Inside the facility
entrance

Lounge

It is a lounge near the entrance that has a history of 107 years.
The owner's hobby, vintage bicycles, is on display.A shop like a Japanese select shop

Cafe terrace

It is a flooring lounge with a footbath.
Relax with free freshly ground coffee.
Please spend a relaxing time at the footbath facing the garden and the cafe.

Lounge facing the courtyard

Completed in 2020, you can enjoy the lounge facing the courtyard, the rhododendron in the spring, the autumn leaves in the fall, and the snowy landscape in the winter.

Footbath facing the garden

It is attached to the cafe terrace and you can enjoy it immediately after taking off your socks.
Relax and chat with your friends.
You will be healed by the chirping of wild birds and BGM.

Shops

It is a shop next to the lounge just off the entrance.

・Handmade mask made from recycled yukata:350 JPY
・Zori made from recycled yukata:1,500 JPY
・Yunohana:1,400 yen
・Mashiko ware Ochi's pottery:From 5,000 yen
・9 pieces of Matsumura Manju:1,350 yen

We also have Hanayura series shampoo, body soap, and Karuizawa crafts.

Beauty salon / massage room"for you"

【Massage】
Whole body care Momihogushi 40 minutes 4400 yen
Foot acupoint 30 minutes 3520 yen
Acupuncture and moxibustion 30-40 minutes 4950 yen
【Beauty Spa】
Facial 40 minutes 6600 yen
Body treatment 40 minutes 6600 yen
Combination total 90 minutes 14300 yen


A work by Tsurutaro Kataoka corridor.

EV desk lamp

Free charging for Porcie.
Other car models will be charged.
1,000 yen per night

Electric assist rental cycle

Bicycle rental
Bridgestone TB1
It takes about 2 hours to reach Mt. Mt Shirane, Shibutoge, Yuki-no-Kairo (snow corridor), and the highest point of the national highway by electric assist cycle.
easily.
Rental fee 3,000 yen all day.
Facility use Equipment Hot springs Chartered hot springs Check-in time information
Number of rooms

Total number of rooms:41 rooms(10 types)/Capacity:191 people*All Rooms Non-Smoking
Japanese-style room:32 rooms/Japanese-style twin:5 rooms/Flooring twin:2 rooms/Twin with hot spring:2 rooms

Standard room facilities

Toilet in all rooms/Toilet with washing machine/All rooms are air-conditioned/TV set/Satellite broadcasting/Empty fridge/phone/kettle/Tea set/Duvet/Hairdryer/humidifier/Mobile phone charger(Rental)


Internet related

[PC rental]No
[Internet connection]Free kusatsuhotel free
Wi-Fi is available in the room / lobby.

Amenities

Hand towel/Toothbrush / Toothpaste/bath towel/shampoo/rinse/Body soap/yukata/Duvet/Shower toilet/Comb / Brush

Outline of facility

Lounge/All non-smoking rooms/Smoking area/shop/Courtesy bus(Kusatsu Onsen Bus Terminal ⇔ Kusatsu Hotel)/PC available(Wifi)

Service & Leisure(Including arrangements)

Massage(For a charge)/Golf(For a charge)/Shogi/Game of go

Locally available credit card

VISA / Mastercard / PayPay

Standard check-in time

14:00(Room only plan is 15:00)
(Last check-in 18:00)

*Please contact us if you will be checking in after 17:00.

Standard check-out time

10:00

Hot spring tax

Hot spring tax Adults 150 yen will be charged separately.

Cancellation provisions

4 days to 1 day ago:20% of room rate
On the day of arrival:50% of room rate
Cancellation without any contact:100% of room rate
*If there is a cancellation policy set for each accommodation plan

Notes

【Notes】
There is no elevator because it is a three-story wooden building.
Only the stairs can be used.

In addition, smoking outside the designated area, annoying behavior due to noise after 22:00, etc.
Please refrain from acts that violate the accommodation agreement.

【please】
Since it is a wooden building, the sound insulation is not high.
Please refrain from running around the corridor or making a fuss as it may disturb other customers.
Hot spring information list
Hot Springs

Kusatsu Onsen (100% natural hot spring)*Does not include artificial hot springs

Open Air Bath

Both men and women are in the large communal bath.

Private Bath

can be(Conditions apply)

Number of baths

[Open-air bath]Man:1 woman:1 Mixed bathing:0
[Indoor bath]Man:1 woman:1 Mixed bathing:0
[Sauna]Man:0 woman:0 mixed bathing:0

Private bath usage conditions

Private Bath:Reservation required after check-in(Small ¥ 1650 / Large ¥ 2200)

Large Communal Bath/Private bath equipment

Body soap/cleansing/shampoo/rinse/brush/Hairdryer/Cotton swab/Toner/Emulsion/Hair rubber/Razor

About outpatient bathing

Open Hours:From 13:00 to 16:30
Adult(s):1,000 yen/Children:600 JPY(2-12 years old)
Hand towel sale:200 yen/Bath towel rental:300 JPY

Outpatient bathing time is one hour, and car storage during outpatient bathing is up to one and a half hours.
Please contact us by phone to use the private bath for outpatient bathing.(0279885011)

About private bath

【source】West riverbank
【Hot Spring Qualities】Acid aluminum/Sulfate/Chloride hot spring(Acid hypotonic high hot spring)
【Efficacy】Neuralgia / Muscle pain / Joint pain / Frozen shoulder / Uchimi / Chronic gynecological disease / Cold sensitivity / Skin disease in general / Health promotion etc.

■Guest(Small → up to 2 people large → up to 4 people)
Once/45 minutes:Small ¥ 1,650 Large ¥ 2,200
Open Hours:14: 00-22: 00/Next morning from 5:00 to 9:00
Reservations are accepted after check-in.

■Outpatient bathing
Adult(s):1,650 yen(1 person)/Elementary school-aged children:1,100 yen/Infants:550 JPY
Face towel:200 JPY(Takeaway OK)/Bath towel:300 JPY(Return required)
Please contact us for your time.(0279-88-5011 / Reservation required)